02.06.16
Mike Elk is the son of a union organizer and has himself worked as an organizer for the United Electrical, Radio, and Machine Workers. He also worked as a research fellow at the Instituto Marques de Salamanca in Rio de Janeiro, Brazil, helping to set up worker-run cooperatives. He writes often for the progressive strategy center – Campaign for America's Future – including this essay, excerpted below:
On Monday, Republic Windows and Doors reopened and started producing energy-efficient windows. Vice President Joe Biden attended the opening ceremony and praised the CEO of the company for bringing back the workers and their union: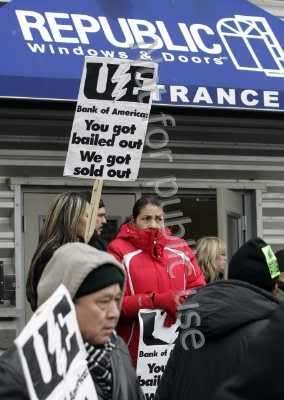 "Instead of doing what has too often been the case in the last, I would argue, 10 to 15 years, you reached out for the most qualified workers in the world. Instead of saying, if you want to come back I'm going to break your union, you said, come back, union and all. That's a big deal."

I would not be so quick to highly praise Serious Material's CEO. This window manufacturer recently reopened a less famous factory in Vandergrift, Pa., without recognizing the union. The Pennsylvania facility had been unionized under its previous employer. When Serious reopened the facility, the workers were without the protection of their union and, unlike the workers at the reopened Chicago plant, were hired back without the seniority rights established under their previous contract.

[Monday], I asked Surace why he brought back the union in Chicago and not in Vandergrift. Mr. Surace said it was because the union in Chicago had been very active and had he not brought the union back the "workers would have been outside protesting." In the Pennsylvania factory, Surace said the union had not been as "active" as the UE workers in Chicago and hence he saw no reason to bring the union back. …

…without higher wages for workers, we will only create another speculative, bubble economy. If we want to build a sustainable green economy, we must allow workers to have a seat at the table through active unions such as the one workers at Republic Windows and Doors  in Chicago have been able to achieve.
+ + +
The rescue begins below and continues in the jump. Inclusion does not necessarily mean agreement with a particular diary. Provoking discussion is the purpose.
+ + +
Jon Soltz wrote about : "This week, VoteVets.org has gone up on the air in four districts (and has more planned) with television ads backing the American Clean Energy and Security Act, sponsored by Reps. Waxman and Markey.  The ads, all like this one, use local Iraq veterans urging Reps. Jim Matheson (D-UT), John Barrow (D-GA), Gene Green (D-TX), and Charlie Melancon (D-LA) to vote for the legislation."discount code 5%:_879981yasmin 28 lawsuityasmin 6 monate preis buy yasmin tablets cheap yasmin online
The state of social facebook and the alternatives hear what they're saying about your brand online with mention popular posts go to site make new friends with random rounds web